Designed for petroleum retailers and convenience store operators, the Computerized Daily Book (CDB) back office system has evolved to meet the needs of the modern operator, thanks to decades of input from SSCS customers, some of the most successful retailers in the world. Our back office software assists you every step of the way as you perform your daily work, making it easy to capture and record sales, manage inventory, and perform all the other tasks that are part of your routine.
With its partner applications Transaction Analysis and Central Price Book, and our company's Handheld Scanning Software (all included with any CDB purchase), the Computerized Daily Book is the industry's most flexible, comprehensive tool available for managing all aspects of a convenience store or gas station.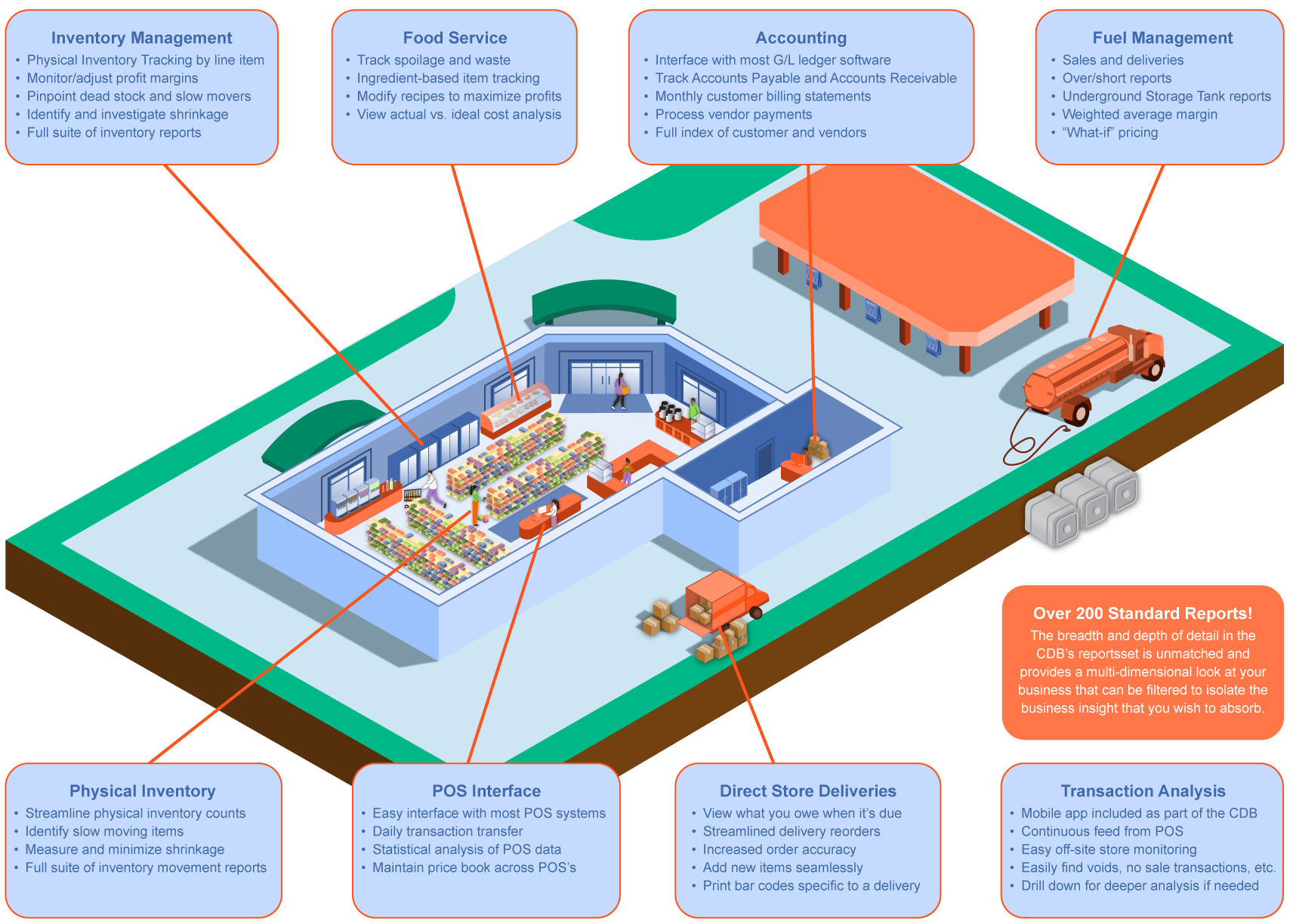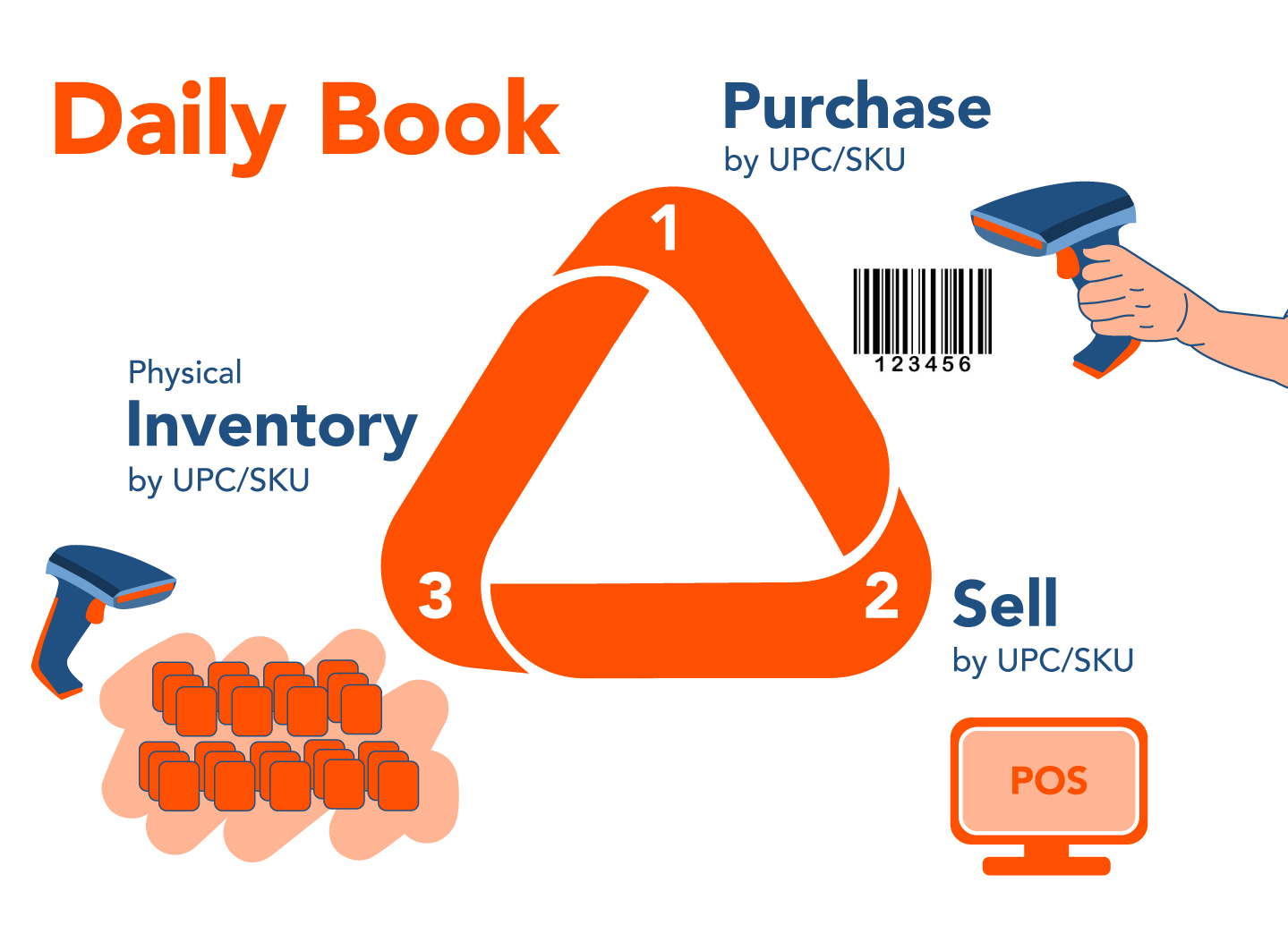 The CDB and the SSCS solutions that integrate with it to extend its functionality create opportunities to grow profit with information you just can't get with the more limited programs available to the industry. The software guides you through a series of daily steps that makes it easy to capture and record sales, manage inventory, and perform your daily book work. You gain insight into what sells, how much stock you have on hand, and what pricing strategies move items off the shelves without cutting your margin to the bone.
C-store operators that invest in the CDB typically see a significant increase to their bottom line. Let's take a c-store that generates an income of $2500 per day with a shrink rate of about 3 percent and margins of 30 percent. Of the average store's $40,000 worth of stock, 10 percent ($4,000) consists of "dead" items—products taking up space that no one buys.SSCS software can improve these numbers. Customers typically cut their shrinkage in half, raise their store-wide margins by around 2%, and eliminate their dead stock and slow moving items while increasing sales.
With a back office system like ours, a typical c-store owner can gain $32,000 or more in annual gross profit. In addition, the CDB makes your job easier by tracking taxes, lottery, income and expenses—it even integrates with most accounting software. It also helps keep your operation compliant with local and federal regulating entities by tracking fuel over/short, owed and paid taxes, and money distributed to vendors.
The Basics
Fuel Manager



Track every fuel delivery, tank inventory and fuel sale with the Fuel Manager module of the CDB back office system. Your POS and automatic tank gauge capture the fuel-related data, which is then posted to the back office system, and processed so you can make better‐informed business decisions.
Complete Accounting Package
Improve accuracy and eliminate redundancy by importing your sales activity—including A/R and A/P transactions—directly into the CDB back office. E‐mail statements in PDF format to your customers with a couple of clicks so you can receive payments more quickly. We work with over ten different accounting programs and provide generic output for custom packages.
G/L Bridge
Reduce manual entries in your accounting system using an import file created by CDBWin. Sales figures, A/R, and A/P files can be directly imported into most common accounting packages. Dual entry becomes a thing of past—CDBWin does the hard work for you!
Meaningful Reports with Actionable Detail
The CDB offers over 200 standard reports that span the entire system, offering unmatched depth and breadth of detail. They provide a multi-dimensional look at your business capable of isolating the parts of your business that require more scruitiny. Improve your bottom line with meaningful, actionable detail that promotes managerial insight.
…And much more
This page only touches on the basic capabilities of the Computerized Daily Book. Click one of the links at the top of the page to get detailed information on the feature of choice.